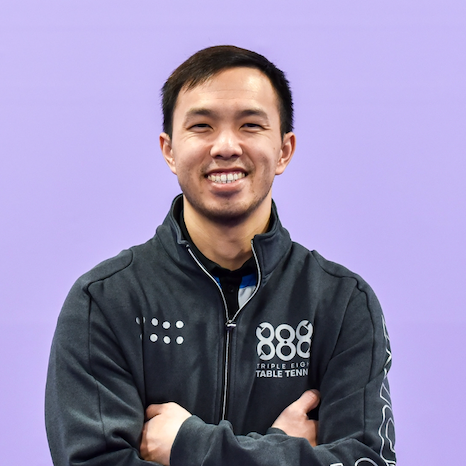 Sean Lee began coaching in 2018 alongside coach Tao Wenzhang. He quickly became a favorite amongst the students, known for his high standards, strict coaching, and work ethic, but also for his close relationship with them. He emphasizes hard work, determination, leadership, and relentless passion for table tennis. He also takes time to teach and inspire young kids to be good players and even better young adults. Some notable players he has coached are Sahil Puri (2021 U.S. U19 Team member), Swathi Giri (2021 U.S. U19 Team member), and Joshua Mak (2022 World University Games member).
Sean specializes in player development including refinement of technical skills, enhancement of tactical play, play style arrangement, and mental development. His players benefit from Sean's desire to make them better and stronger.
Sean has gained valuable international experience through competing as a former player in countries such as Canada and Spain and he was coached by some notable coaches such as former World Champion Li Zhenshi (China), and former German National Team member Stefan Feth.