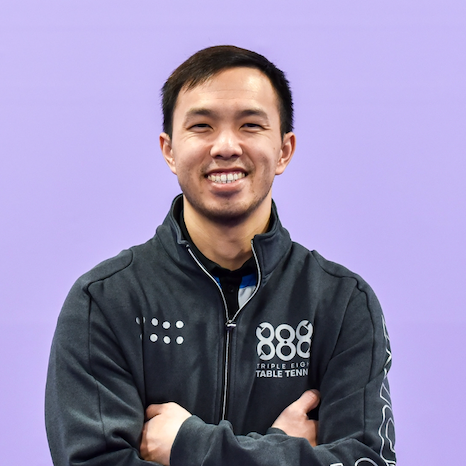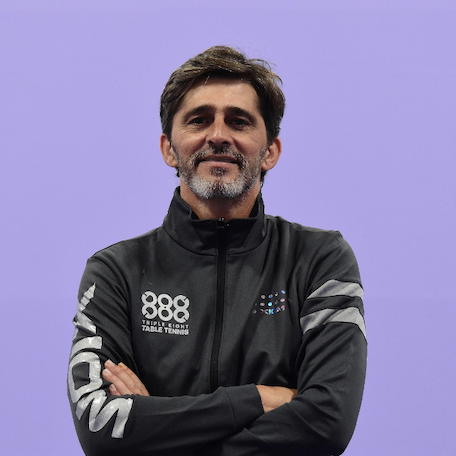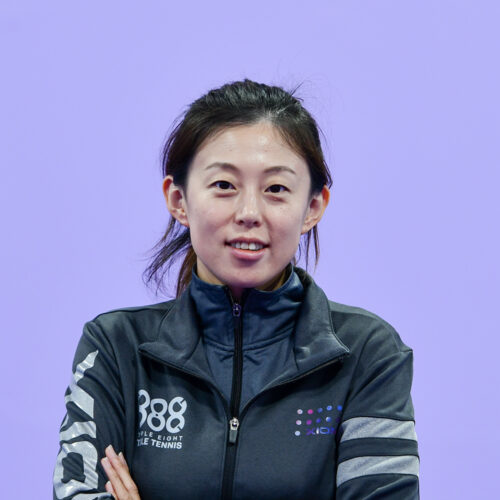 Director of Coaching Program
Park Ji-Hyun
Coaching Accomplishments
2017~2022 / High Performance Director, Korea National Team (Women's & Men's)
2017~2022 / Head Coach, all U18 Korean National Players
Responsible for mini-cadet (U12), cadet (U15), junior (U18)
2012~2022 / XIOM Consultant & Advisor head coach
Hugo Calderano (World Rank #3)
Jeoung Young Sik (World Rank #18)
An Jaehyun (World Rank #45 / Semi-finalist world championship 2019)
Vitor Ishiy (World Rank #51)
2013-2016 / Head Coach, Korea Women's National Team
2013 / World Championship > Mixed Doubles / Silver
2013 / Asian Championship > Mixed Doubles / Gold
2013 / Korean Open > Singles / Gold
2014 / Poland Open > Singles / Gold
2015 / World Championship (China) > Mixed Doubles / Gold
2015 Universaide (Korea) > Team / Bronze, Mixed Doubles / Gold
2003-2010 / Yemen National Team
2006 / Arab Table Tennis Championship
Junior Singles / Gold (First in Yemen history)
Cadet Singles / Gold & Silver (First in Yemen history)
2008 / Arab Games > Team / Bronze
Playing Accomplishments
1990 / Asian Games (Asian Olympics)
Gold Medal
1990 / Australia Open
Gold Medal
1986 / Asian Games (Asian Olympics)
Gold Medal
1985 / World Championship (Sweden)
Singles / 16th
Director of International Relations
Jörg Bitzigeio
Jörg Bitzigeio, currently manager/coach of US' top male player Kanak Jha and former USA Table Tennis High Performance Director, can look back on a long career in table tennis in various positions.
Having been an international pro player for Germany in his early twenties, Jörg got Master Degrees in Sports Science and Sports Business while also completing Germany's high performance coaching education to become an A-coaching license holder.
At the age of 28, Jörg became the youngest National Team Head Coach and Olympic Team Coach when he took over the German Women Team for 7 years. He established and led Europe's strongest international training group in female table tennis that resulted in a Bronze medal at the 2010 World Team Championships. the first medal at World Championships for Germany's Women's team since 1997. Later Jörg changed the position to become the Youth Head Coach for another 4 years. During this tenure he placed several German players at world class level by leading them to win several titles at European Championships and Europe Top 12 events in Adult, Junior and Cadet categories.
After leaving Germany in 2017, Jörg moved to the US for 2 years being hired by USA Table Tennis as their High Performance Director to build structures and managing the transition and establishment at USA Table Tennis from talented Hopes to successful adults on World level. This resulted in three players in Top 30 in Adult World Rankings and No.1 rankings in U18 World Ranking in both genders, additionally in a Gold medal of the US men's team at the 2019 Pan Am Games, and a Bronze medal at the 2018 Youth Olympic Games, both medals have been the first ones ever for US male table tennis athletes in history.
Jörg has established a reputation as one of the most credentialed director, manager and coach in Europe and the Americas, providing leadership, sports management and high-level coaching. Being awarded USATT National Coach of the Year in 2017 and 2018 underlines his kudos.
However, even after returning to Germany in 2019, Jörg never stopped supporting and developing table tennis athletes from the US, and by mentoring and coaching Kanak Jha, US' top male player, on a day to day basis since then, he showed his ongoing passion to continue what he started in the US some years ago.
Creating a promising project and leading an international center like 888 Table Tennis is a new challenge for Jörg and he is excited to continue working with players and coaches of all levels at 888 Table Tennis, at the same time he is welcoming all guests and partners joining this thrilling ride.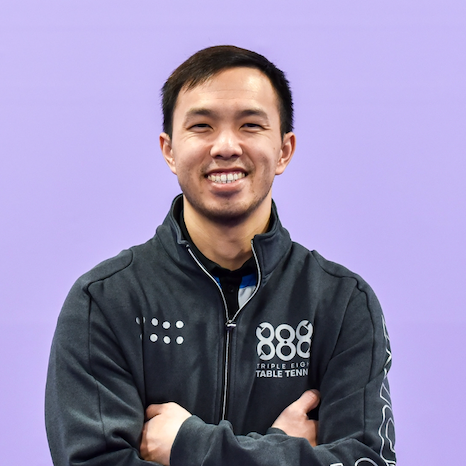 Coach
Sean Lee
Sean Lee began coaching in 2018 alongside coach Tao Wenzhang. He quickly became a favorite amongst the students, known for his high standards, strict coaching, and work ethic, but also for his close relationship with them. He emphasizes hard work, determination, leadership, and relentless passion for table tennis. He also takes time to teach and inspire young kids to be good players and even better young adults. Some notable players he has coached are Sahil Puri (2021 U.S. U19 Team member), Swathi Giri (2021 U.S. U19 Team member), and Joshua Mak (2022 World University Games member).
Sean specializes in player development including refinement of technical skills, enhancement of tactical play, play style arrangement, and mental development. His players benefit from Sean's desire to make them better and stronger.
Sean has gained valuable international experience through competing as a former player in countries such as Canada and Spain and he was coached by some notable coaches such as former World Champion Li Zhenshi (China), and former German National Team member Stefan Feth.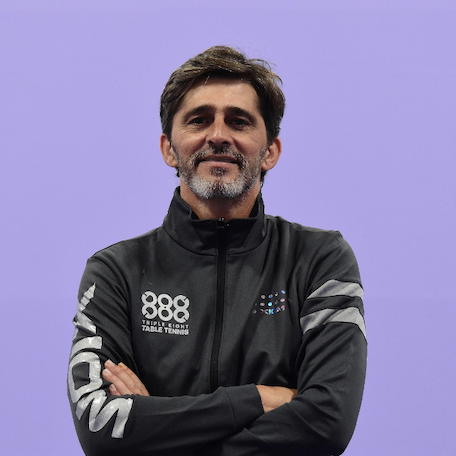 Coach
Alexandre Gomes
Alexandre Gomes, former coach of Olympian and World Ranked Top 20 player Aruna Quadri, lead the National Team of Peru as Head Coach for several years before coming to 888 TTC. A native of Madeira island, coach Alexandre represented the Portuguese National Team at several European Championships before starting his coaching career. Coach Alexandre was as professional player for several years and won several National titles as athlete till he changed his profession and began to focus primarily on coaching, this time with the Regional Associations of Madeira.Since then, coach Alexandre has established a reputation as a highly skilled and experienced international coach in Europe, Africa and South America, amassing coaching accomplishments like Gold at the European and African Championships. He has been a coach of several Olympians.Coach Alexandre believes in building strong and positive work relationships with his athletes while striving for common goals by modern training method. He is excited to meet and help players of all levels and skill sets at 888 Table Tennis.
Coach
Tao Wenzhang
Tao Wenzhang has extensive table tennis coaching and management experience. From working at local clubs like ICC to founding programs like Swan Warriors and Spartans Table Tennis. Tao's was a US Open Men's Single and Doubles Champion with his highest USATT rating at 2802. His coaching achievements range from working as a USA National Teams Coach to honored with National Coach of the Year by USA Table Tennis.
888 TTC is excited to have Tao on our team to grow the sport of table tennis.
Coach
Avi Schmidt
Avi is a USATT-certified regional coach and former U.S. Over 40 and 2 x over 50 National Champion. Recent wins include the 2011 National over 50 men's title and 2010 Sacramento Spring open.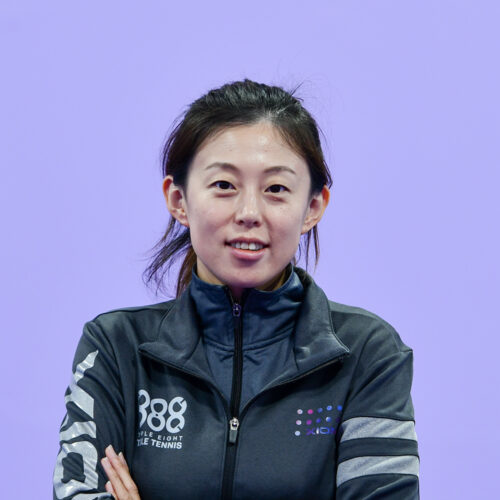 Coach
Maggie Tian
Maggie Tian was born in Dandong, China. She started to play table tennis at age of 6. She had been training and playing professionally since 9 years old before she retired from the Liaoning provincial team in 2008. Played in the Croatia League for a season before coming to the US in 2009 and has been coaching full-time since.
As a player, Maggie won many medals. The most memorable one would be the Gold Medal at her very first US Open in 2010 where she won the U21 Women's Singles.
Maggie's passion and knowledge in coaching was quickly recognized in the US. She was selected as one of the US National Team Coaches in 2016. She has coached many US National Team members domestically and internationally. Her most proud achievement was at the 2017 ITTF World Cadet Challenge in Fiji where the US Cadet Girls' Team won the Silver Medal – a record hasn't been broken as of 2021.
Maggie does not just take coaching as a job, she enjoys it, too. She equally appreciates working with high level players as well as true beginners. Nothing makes her happier to see players improve.
At her leisure time, Maggie spends all her time with her newborn in 2019. If there is ever spare time, shopping.
Coach
Francisco (Chico) Brito
Over 35 years of playing and coaching table tennis in Brazil, Chicago, Milwaukee, San Francisco Bay Area. Coordinated several table tennis clinics, training camps, tournaments for kids.
Coach
Rajko Gommers
Born and raised in Etten-Leur in the Netherlands, Rajko his interest in sports started by playing soccer. Eventually, because both of his parents played table tennis at the time, Rajko joined the local club TTC Tanaka at the age of 8.
From this point on Rajko steadily grew as a player and at age 12 joined the High Performance Program for Table Tennis in Rotterdam where he practiced for three years. After three years in this program, Rajko joined the club Scyedam where he made his highest league (Eredivisie) debut at the age of 16 and would practice full-time with his teammates. During this time Rajko received numerous selections for various international tournaments including 5 European Youth Championships and 1 World Youth Championship.
After graduating high school Rajko moved to the Olympic Training Center in Arnhem where he would become a full time professional player. In these 2 years at the Olympic Training Center Rajko played for the Dutch club Taverzo with whom he won two league titles and one Cup and achieve several noteworthy results on the European podium.
At the age of 20, Rajko moved to Leuven (Belgium) to combine his university studies (Japanese Studies) and professional table tennis. For the last 6 years Rajko practiced in Leuven full time with Flemish (Belgian) National Team members and continued playing on the international podium by playing for example 5 World Championships and 6 European Championships for the Dutch National Team.
Starting in the summer of 2018 Rajko came into contact with the American Table Tennis scene, where he would spend his summers practicing, competing and coaching promising players. Because of wins against several high ranking players within the US, Rajko currently holds a 2700+ rating. From the fall of 2018, Rajko started working as an event coach, where he would coach and accompany USATT National Team members when they were in Europe to play tournaments on the Youth Pro Tour which led considerable results.
Now Rajko has decided to change his priorities and put all his energy into coaching. Where he hopes to use his experiences as a player to guide and coach players to the level they desire to achieve.